Another review on oraclemiddlewareblog.com by Radu Dobrinescu
The WebLogic application server can host business critical J2EE applications or can serve as a platform for just as important middleware systems such as Identity Management, Business Intelligence, Service Oriented Architecture and others. Either way, it is very important that WebLogic administrators have quick access to the most significant metrics that show how the system is behaving. And although there are very useful and versatile built-in monitoring tools included in the Fusion Middleware stack, such as the WebLogic administration console or the Enterprise Manager applications, these can still be further improved with features that can prove to be very helpful, especially for real time monitoring. One such extension to the already existing tools is the WebLogic Smart Dashboard and Monitoring application.
The tool integrates natively with the administration console and the links to its monitoring features conveniently show up as a portlet in the administration console portal.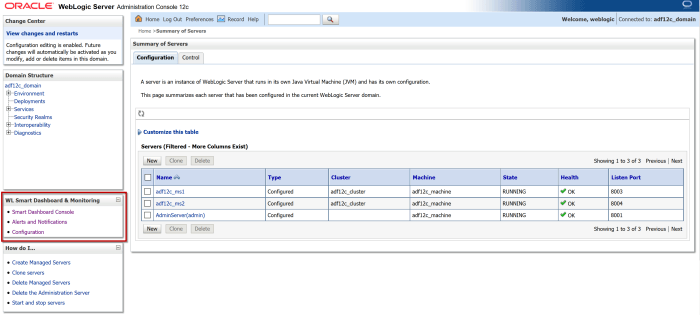 The product itself is very easy to install and basically consists of copying the application war file in the console-ext directory of the domain followed by a restart the Admin Server. The WLSDM portlet that allows access to the main WLSDM pages is also reachable by a direct URL....
Please read the complete review on oraclemiddlewareblog.com: http://oraclemiddlewareblog.com/2015/08/31/weblogic-smart-dashboard-and-monitoring-a-valuable-help-for-weblogic-administrators/